"Tell me and I forget, show me and I may remember, involve me and I learn." - Confucius Xunzi, 3rd century BC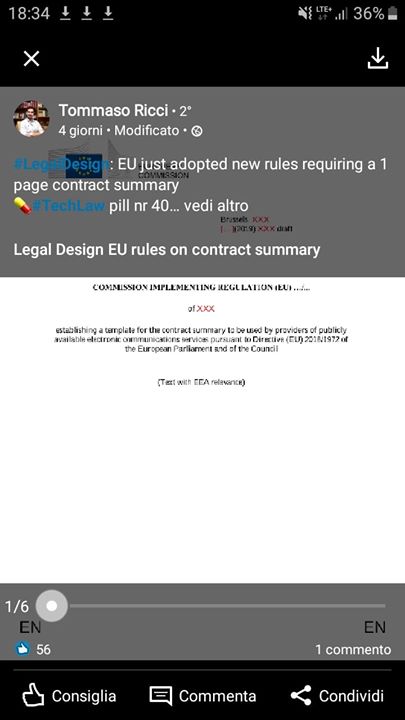 From Tommaso Ricci legaldesign by law !
📣 LegalDesign: EU just adopted new rules requiring a 1 page contract summary
💊#TechLaw pill nr 40💊
🔺 As of 21 December 2020, #electronic #communications service providers will have to provide users of their services a #summary of the #contract.
🔺 The #European #Commission has adopted an implementing regulation establishing a #template for the #contract #summary that electronic communications services operators should provide to consumers in the EU.
🔺 The providers of these services, such as #telephony, #messaging or #internet, will need to give to the consumers a summary of the contract before the conclusion of a contract.
🔺 The summary will include the main conditions of the contract, such as information on #price, #services and #internet speed.
More info on contract summary requirements coming 🔜
Access the new rules at the link below
👍Did you like this post? Choose a reaction below and leave a comment💭 to help me improve the channel
vai al link